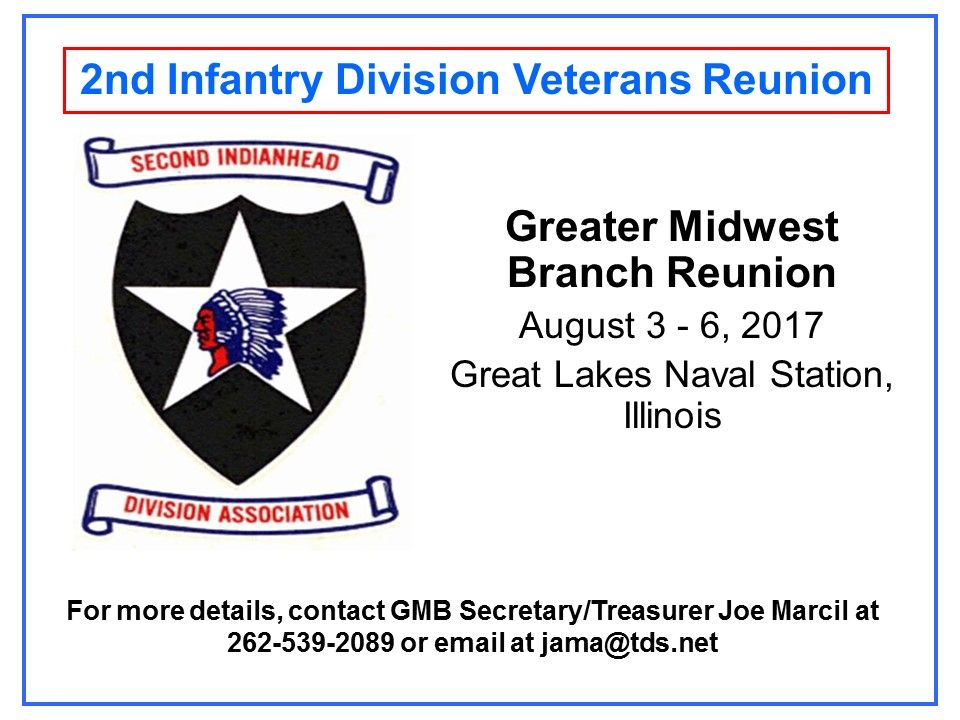 The Greater Midwest Branch will be holding their annual reunion this year August 3-4-5-6. We will be celebrating the 100th anniversary of the 2nd Infantry Division and remembering the 100th anniversary of the U.S. going to war in Europe.
We will be staying at Great Lakes Naval Station which is located near North Chicago, Illinois and is on the shores of Lake Michigan. The rooms are all suites and have a full kitchen and separate bed room. The suites are $70.00 per night and there are no taxes!!! A hot continental breakfast is included in the room rate also.
Friday morning we will be guests at a Navy graduation. Friday evening we will have a cookout on the shores of Lake Michigan on a hotel patio. Drinks will be available! Saturday morning we will take buses to Des Plaines, IL (about a 45 minute ride) where we will rededicate a WW I, 2 ID Monument and we will be adding 3 plaques to the monument for Korean War, Korean Cold War/DMZ and for Global War On Terrorism (GWOT). Saturday afternoon our hospitality suite will be available with snacks and drinks. We will hold our annual business meeting and then have a plated banquet and there will be a cash bar. This banquet room has a beautiful view of Lake Michigan.
For further details contact GMB Secretary/Treasurer Joe Marcil at 262-539-2089 or email at
jama@tds.net
  Yes, there will be costs associated with the meals and bus transportation. Everyone is invited and of course guests are welcome!!! Everyone will be required to fill out a vetting form to get on the Navy Base!!!
We remain the Greater Midwest Branch…Second to None!